Our dogs have been police officers...
But ALL of them are Best Friends!
Hello and welcome to Chips Labs!
We have been breeding Labrador Retrievers for over 20 years and are glad you found us.  Our dogs are AKC certified, vaccinated, and well trained to give you the best puppy you have ever owned.  Don't take our word for it though, browse our Happy Homes section to see just a few of the many families that have became part of the Chips Labs family.
As a Labrador Retriever breeder we strive to make your puppy buying experience the best it can be, so call us with any questions and set up an appointment to meet your next best friend!
2023 Calendars!
We are taking orders for our 2023 wall calendar!  The official Chips Labs calendar will be available for $40.00 each. They are professionally made with photos of our very own puppies, trained service pups, and pictures provided by a few of our customers. Order yours today!
Flu Vaccine Notice
All puppies that are to be trained and started must have there Flu vaccine at 7 weeks, and a booster 3 weeks later.  It will be done by our veterinarian due to how contagious the Flu virus is.  The Flu 
airborne and can also stay on people's clothing for 48 hours.  Puppies should never go to a puppy day care, or parks without this vaccine.  We strongly recommend all new puppy owners have their new little friend vaccinated.
A trained and started puppy purchased from Chips Labs is protected for 1 year.  If your puppy should contract a strain of the Flu, the company of the Flu vaccine covers all veterinary bills.  The vaccine is $50.00 and will be on record at Crab Orchard Veterinary Services in Tazewell, Virginia.  They can be contacted at (276) 988 8080, simply tell them you are a Chips Labs owner. 
Raising Labrador Retrievers for over 20 years!
Now Offering Service & Therapy Pups
For many years our quality line of Labrador Retrievers have not only been great family dogs, but several went on to training schools to become excellent service and military animals.  Chips Labs is proud to officially offer puppies trained for service or therapy companionship including PTSD.
We will pick pups from each litter with the greatest potential to be a lifesaving animal.  R
eferences are available upon request. For more information send us a message via our contact form, or call us at (276) 988-5725.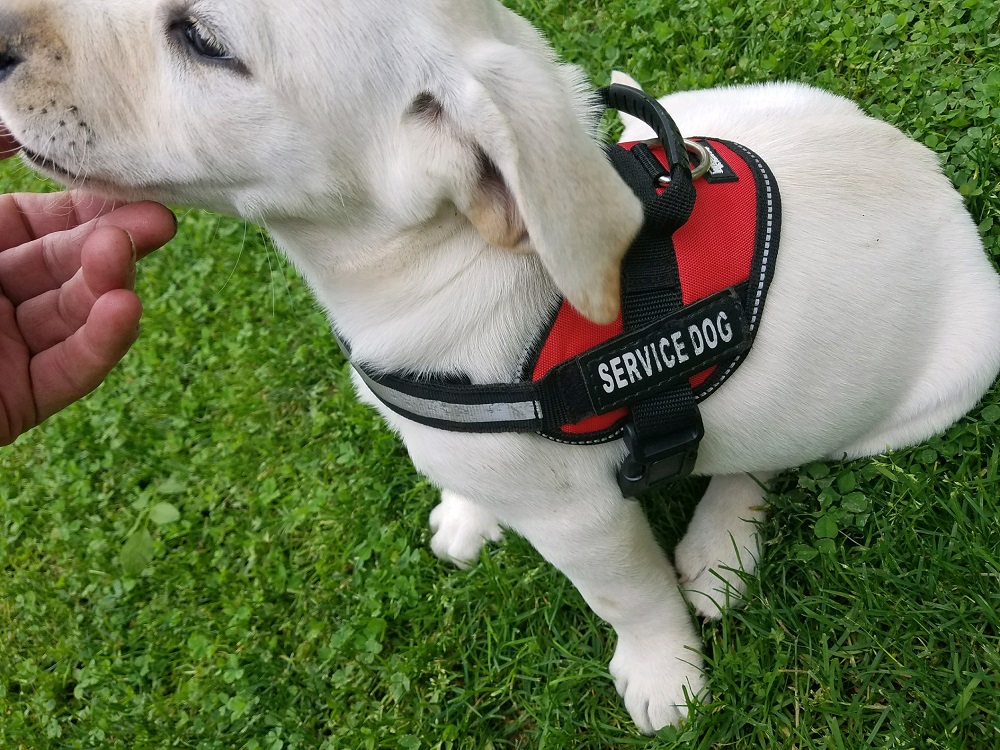 Here's What's Happening At Chips Labs!
Like Us? Let us know on Facebook!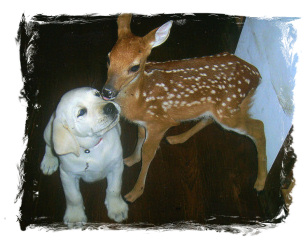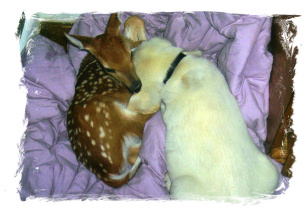 "Hillbilly" the deer, and Snowball are lifelong friends and continue to visit.
Proving that friends are friends forever no matter how they look on the outside!!